Are You Equipped for DIY Flood Damage Restoration in Twin Falls?
11/5/2019 (Permalink)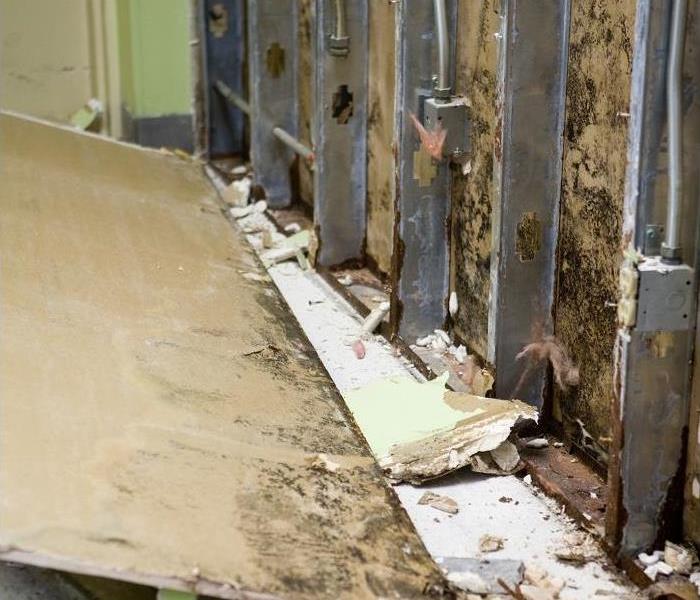 Water damaged drywall must be discarded. We make flood cuts to remove the damaged material and dry the structure.
What is the Difference Between Self and Pro Cleanup of Storm Damage or Flooding in Twin Falls Homes?
When storms strike in Idaho, damage can come from above and below. Tree limbs and high winds damage roofing and break windows allowing water in while flash floods bring in groundwater.
Storm damage and flooding in Twin Falls homes require fast action by homeowners to limit the loss in their homes. Cleaning up with towels and mops can go so far. In the case of a damaged roof or broken window, temporary repairs such as tarping the roof or covering broken windows need to happen to stop any further water from entering the property.
Home Water Cleanup Compared to Professional
A wet/dry vacuum does not have the pulling power that SERVPRO extraction units have. They also have specialized attachments for working on different types of flooring, including hardwood floors and tiles. Weighted extractor heads assist with pushing water to the surface of the carpet for a more thorough removal.
Consumer-Grade Fans Compared to Professional Air Movers and Dehumidifiers
There is almost no comparison. Fans are designed to stir the air and cool a room. SERVPRO air movers have a design based on the science of psychrometry. When a fan blows on a wet surface, it eventually dries the surface. If an air mover blows over the same surface, the high velocity of airflow causes embedded moisture to come to the surface. Once there, the dehumidification equipment captures it and ports it away. The cycle continues as progressively drier air circulates, thoroughly drying the water loss area.
Wet, Buckled Sheetrock Needs to Go
When water enters a home and encounters sheetrock, the core wicks water rapidly, and half an inch of groundwater may travel several inches upward into the wall and require removal through controlled demolition. No amount of drying can restore water damaged, soggy sheetrock, and unless removed, may invite the setup of mold colonies.
SERVPRO of Twin Falls & Jerome Counties at (208) 735-1447 stands ready to assist local homeowners with storm damage and flooding in their homes to make the water loss, "Like it never even happened."
More about Twin Falls.